CME News (From 2013)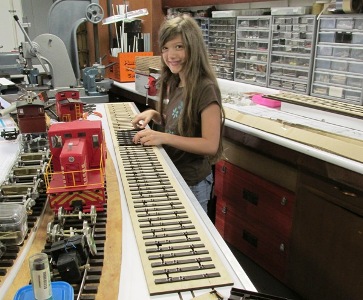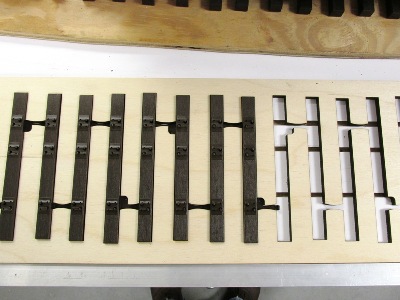 Track Making Tools (updated 9-3-13)

One of the things that makes some varieties of tie strip such a bear to work with is that it is almost impossible to slip two or three rails into the stuff at any rate greater than two or three ties at time. At that rate, one might just as well be hand-laying track. Having suffered this frustration with other brands of tie strip, I have now created a laser-cut plywood jig for holding our F Gauge and Dual Gauge tie strip which makes assembling track a breeze. Even a 10 year-old-girl can do it quickly and accurately! Average time for assembling a 6' long section of dual gauge track is about 5 minutes--but maybe you can do it faster? Pricing and other info can be found here.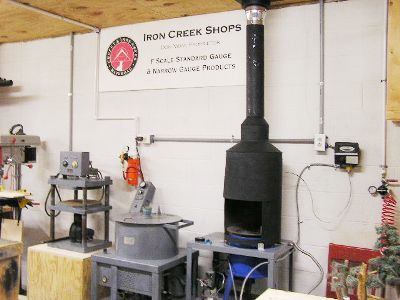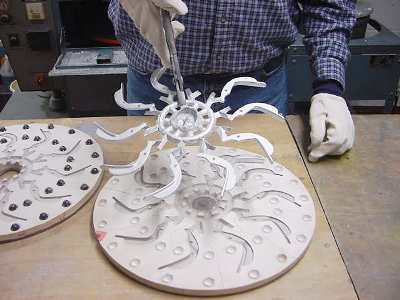 CME Announces New Spin Casting Division (updated 8-27-13)

Cumberland Model Engineering is very pleased to announce that with the help of my friend Don Niday, we are starting a new spin casting division which will allow us economically to cast our own freight car trucks and miscellaneous detail parts in white metal. After a hair-raising trip to Rhode Island--during which our vehicle broke down at midnight in the middle of a northern New Jersey ghetto, marooning us in the Garden State for nearly a week where we (1) hit a deer, (2) had a grocery store altercation with an aggressive sodomite, (3) found ourselves in the middle of a girls state-wide Soccer Tournament, (4) Dave got a cab ride on NJ Transit, and (5) Don tried his hand at a new circus act as The Human Trebuchet (really, I am not making this up)--we arrived back in Knoxville with 300 pounds of tin alloy, a 160 lbs melt pot, one spin casting machine, and a 600 pound Conley vulcanizer (at right). Don has now put a ventilation stack in his shop, rigged up airlines, and as of Friday, August 23rd, is now casting parts. Our first projects will be getting Don's two standard gauge trucks into production--the 5'-2" wheelbase wooden bolster archbar and the 50 Ton Bettendorf. Next will be the detail parts which go on Dave's 30 ton Southern Railway boxcar. Stay tuned for our next big adventure: Escape From Jersey II in [3-D]!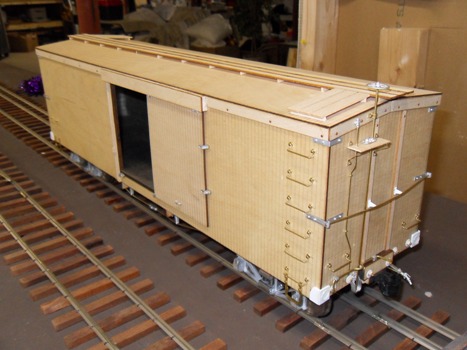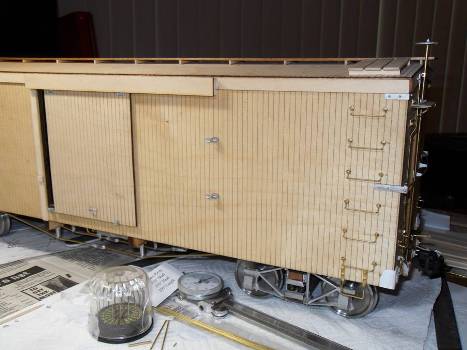 Test Builds on 36' Boxcar Kit (updated 8-27-13)

So far four test builds of the 30 ton Southern Railway Standard 36' Boxcar are either completed or underway. Mr. Aaron Rohyans of Indianapolis, Indiana has completed the first and is cutting his teeth on #3, a revised design. The car at right is test build #2, being completed by Mr. Mike Minatelli of Newark, Delaware. Mike and his Dad are building an indoor dual gauge layout in F scale. This boxcar is their first piece of standard gauge rolling stock--and it will be servicing, according to Mike, a miniature clothespin manufacturing facility. In reality, I think they must be making toothpicks. Production kits are now much, much closer. See our CME Kits page for updates. Here's a few additional pics: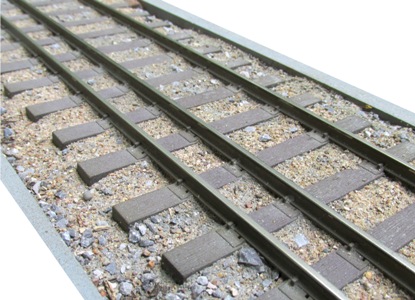 F Gauge Track Available (updated 8-27-13)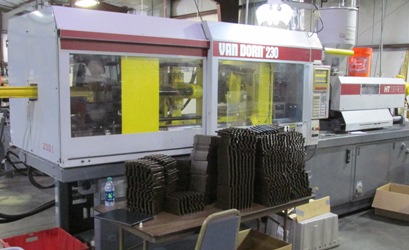 Since announcing the acquisition of my friend Don Niday's Iron Creek Shops product line of tie strip and track laying tools last year, it has been my desire to do another production run of dual gauge tie strip and expand the line with ready-made-assembled track. After retrieving the tie strip mold from my friends at Pellissippi State where it had resided in their Cincinnati Milcron 400 ton press, I found a local plastics company willing to let me run the mold on their equipment. My sincere thanks go to Mountain Mold and Die in Sevierville, Tennessee who made this possible, and whose generosity enabled us to lower the price of tie strip by an entire dollar per section! More information may be found on the Track Products Page. For those of you who've never seen one, this is what tie strip molds and their inserts look like (above).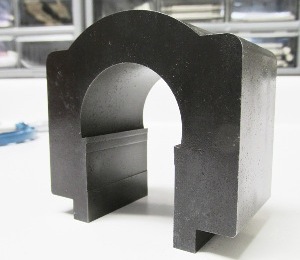 1.5" Scale / 7.5" Gauge Axle Boxes (updated 8-26-13)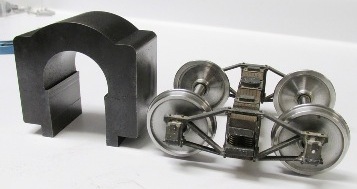 A recent commission comes from the live steam sector of the hobby. Mr. Tim Meyers from south Florida is a live steamer building a 7.5" gauge Chicago & North Western 2-8-2. Tim's C&NW mike will be unusual in that it is not a USRA prototype, but also because he intends to build it almost exactly as the prototype, including using prototypical axle boxes with inserted Babbitt bearings, or "brasses" as they were called in the industry. How did the big three steam builders make a prototype locomotive driver axle box--using a shaper of course. How do you make a scale one in 1:8? Why with a 1980s era Japax wire EDM of course!



As you can see at left, compared to my usual F scale work, these things are huge! Each axle box was cut from stress-relieved 2.75 x 3.5" 1018 steel. Tim supplied 2D CAD drawings. He has done some milling along the top and sides of his 8 (plus one spare) new axle boxes and is now well on his way to building a true scale model, one that he can actually ride on, oil up & maintain just like the prototype. Now where does one find 1:8 scale cotton waste for the oil cellars?

D&RGW L-105 Chassis Assembled (updated 8-26-13)

News comes from my friend Doug Hemmeter that he has received the assembled F scale L-105 chassis from Rodney Edington in Kansas who used the lead truck and driver centers I machined to create the chassis at right. Doug then added urethane cylinder blocks and, at least for now, a temporary urethane trailing truck until a metal one is rapid prototyped. More of Rodney's work creating the brass frame can be seen below: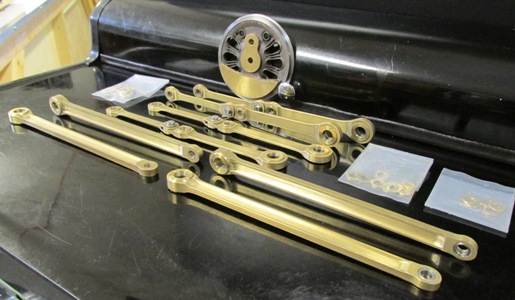 Side & Main Rods for the D&RGW L-105 (updated 8-26-13)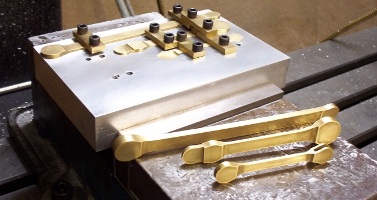 After a good many hours of work, in January of 2013 I completed work on the ball-bearing equipped side and main rods for Doug Hemmeter's D&RGW L-105 4-6-6-4. These brass rods are not castings but production rods fabricated through a combination of wire EDM and cnc milling. The L-105, as readers of this site may recall, is a one-off model being built by Doug Hemmeter for a client in southern California; and as such, it was deemed unnecessary to invest the time and money that would go into investment cast rods, especially since even investment cast rods would still have to be drilled and counter-bored for the insertion of ball bearings. These rods began as pieces of bar stock whose profile was first cut on two sides using my Japax wire EDM.
Aluminum jigs were then made to hold each side or main rod "blank" for drilling, boring, and in the case of the main rods, fluting. After drawing each main rod as a 3D solid in BobCAD-CAM, each "flute" was created by surface machining a pocket the length of the main rod using a 1/16th inch ball end mill. Since the L-105 was not a roller-bearing side rod equipped locomotive, each ball bearing was hidden with a brass cover pressed into place. Main rod crankpins measured 3/8" OD; front & back & intermediate crankpins were 1/4". A 303 stainless pin connects each knuckle.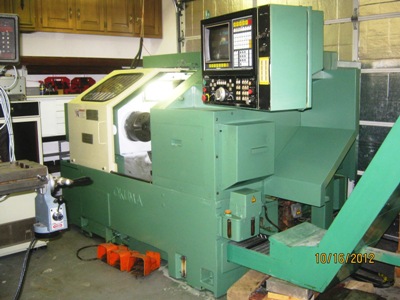 CME Acquires CNC Lathe / Schoolroom Goes Laser (updated 8-26-13)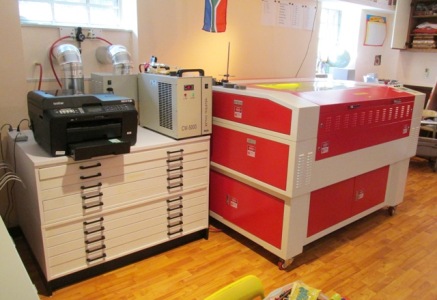 I am pleased to announce that as of October 2012, the workshop has a new resident--a 10,000 pound 1989 model Okuma LB15 CNC lathe. The Okuma is an industrial workhorse that takes all the juice my 20 horse rotary phase converter can muster (the homemade 20 horse phase converter has itself to be started by a smaller phase converter of about half that capacity). The Okuma has a 10" Kitagawa hydraulic chuck and a spindle bore just over 2.5"--big enough for the largest F scale wheels and for nearly any other model train project one might imagine. Tooling is made by Iscar (sorry Kenametal--your reps did not seem to be interested in returning our phone calls and e-mail inquiries in a timely fashion). Our first project has been freight car axles for 7.5" gauge live steam, turned for a scratch-builder here in the Knoxville area.
Where to put a 10,000 pound lathe in a 23.5' x 25' home shop already full of equipment? Well that is a problem. The 1945 Monarch 10EE turret lathe got crowded out of the workshop and has gone into storage. On the other hand, the 120 watt Rabbit Laser USA laser cutter has retreated into the kid's schoolroom. This makes us, I suspect, the only laser-equipped home school in the country. I wonder what Sarah, Emma & Molly will make? What would you make?
Continue to CME News 2012 . . .
Last update: 7 January 2014