Custom Machining & Fabrication (Can We Make Some Chips for You?)
What We Can Do for You?

Custom machining of model train parts from O scale through the ride-on-scales of live steam is what we do at Cumberland Model Engineering. In addition to our own F scale product line of track and kits, our goal is to help fellow hobbyists pursue their dream projects who might otherwise be deterred due to a lack of machine tools or the skills to use them. We are not your ordinary job shop. We are model railroaders serving model railroaders. Our interests are as much in railroad and mechanical history as they are in machining. As such, we also offer our services as CAD designers, working in both 2D and 3D CAD to the larger model-making and manufacturing world.

In addition we are now offering custom spin casting in white metal. You can read more about that here.

We'd be happy to field your questions or just to talk trains: Please see the Contact Page

Below you will find a representative sample of our shop's capabilities.


(CNC milling the flute into a main rod for the F Scale D&RGW L-105 Challenger)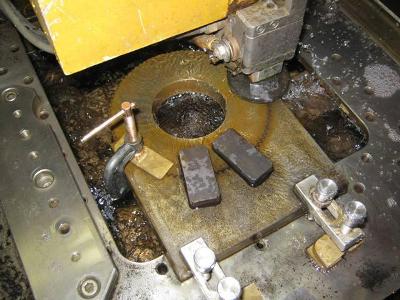 Wire EDM Cutting (updated 8-27-13)

Wire EDM is probably best described as an electronic band saw able to cut any conductive material (brass, steel, aluminum, copper or carbide) using a controlled arc of electricity. The accuracy achievable is phenomenal: Into the ten thousandths of an inch range is common. In my workshop, Wire EDM has been used for:
• Brass Locomotive Frames & Frame Spreaders
• Lead Trucks
• One-piece Cylinder Blocks
• Axle Boxes (both 1:20 and 1:8 scales)
• Main & Side Rod blanks
• HSS and Cobalt lathe form tools
• Spur Gears
• Go-No-Go Gauges
• Investment casting patterns built up from several smaller pieces.
Since wire EDM is not a fast cutting method, the basic rule of thumb is that where a one-off part is required, the part is small and fiddly, an unusual shape or extreme precision is called for, then wire EDM is the way to go. If you can CAD it, then it can most likely can be cut. Maximum part thickness is 6", length about 24". Here are some sample parts: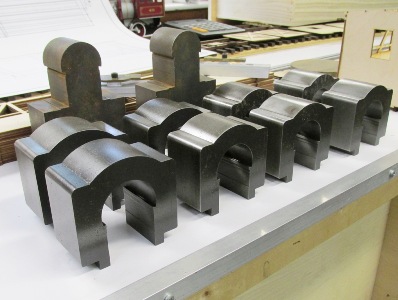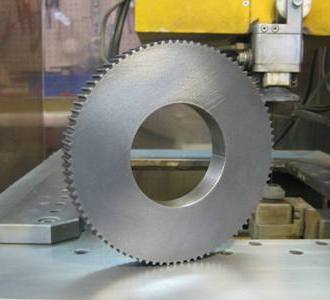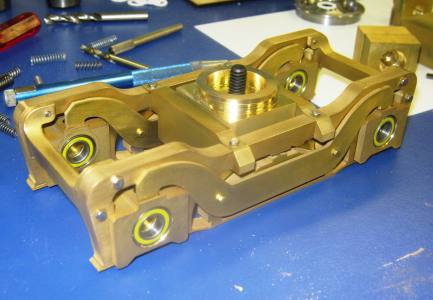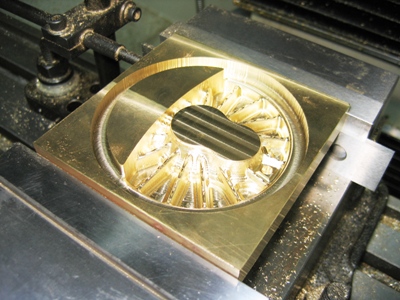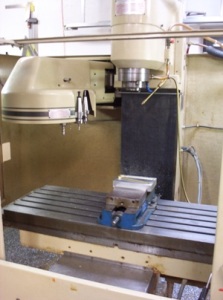 CNC Milling (updated 8-28-13)

CNC milling is ideal for work where moderate production work and for where complex shapes are required in a part. Our Milltronics Partner I has a work envelope of 31x14 inches. With the addition of a aluminum sacrificial milling table, entire main & side rods can be milled as well as entire locomotive frames in F scale. Some of the projects we have tackled include:
• 3D Milled Steam Locomotive Driver Centers
(Pics of Ps-4 Driver center in mill and SolidWorks screen-cap below courtesy of Mr. Randy Gordon-Gilmore)
• Main Rods & Side Rods
• Fixtures for production milling freight car truck side frames
• Components for the Offenhauser Indy race car engine
Here are a few pics of some of our past projects: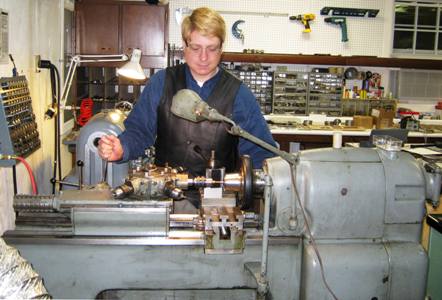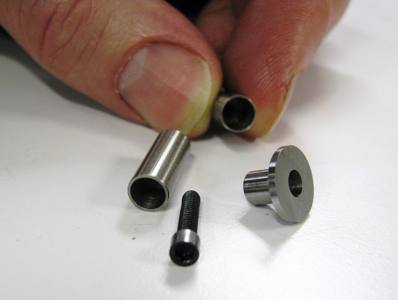 Manual Turning (updated 8-28-13)

Our Monarch turret lathe is available for small production runs of anything from scale model axles and crankpins to brass bushings and various Delrin parts. One off-work, such as driver tyres and machined driver centers, is done on our Monarch 10EE tool room lathe: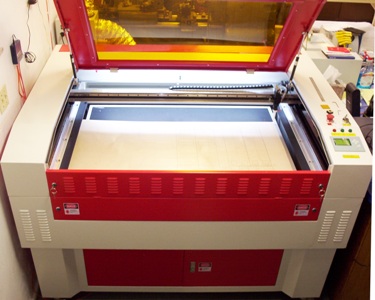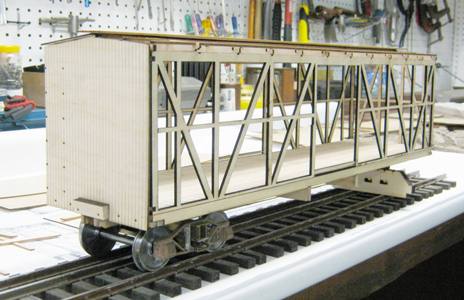 Laser Cutting & Engraving
(updated 8-28-13)

Our 120 watt CO2 laser is able to cut through basswood and plywood up to 3/8" thick and through styrene and acrylic plastic as well. Work envelope is about 34.5 x 47 inches. Tolerances and repeatability hover in the .005" range. We use the laser for freight car kits, but it has also proven useful for making wedding invitations, gifts, puzzles, ornamental woodwork, plaques and other promotional materials. We've even etched wine glasses with it. A video of the laser doing a bit of etching and cutting in real time can be found on YouTube here.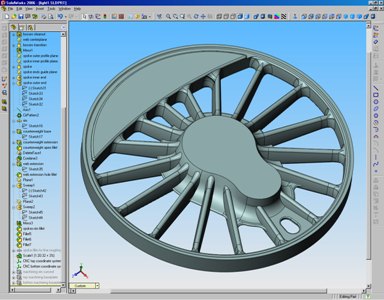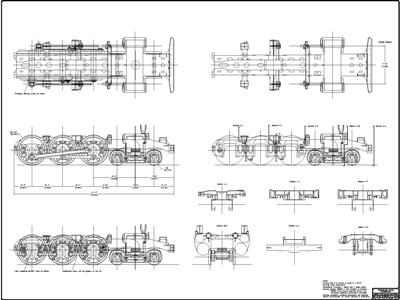 Custom CAD (updated 8-28-13)

We also offer custom design work in both 2D AutoCAD and 3D using SolidWorks. Nearly all of our own model work begins at the CAD stage using prototype railroad blueprints which we scan and electronically trace as the basis for all our models.

Prototype drawings are available from a number of historical societies, many of whom are now putting there scanned archival images online, or at least a sample thereof.

Files can be outputted in their native part or assembly file format or exported in a different format.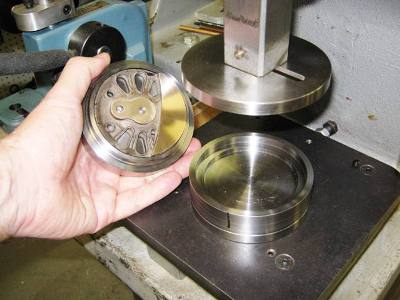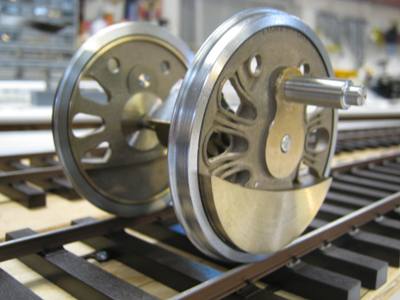 Steam Locomotive Driver Machining (updated 8-28-13)

We also machine steam locomotive drivers, whether from iron or bronze castings, and apply separate steel tyres, turned from DOM Tube. Drivers up through F scale are rim-insulated for compatibility with 2-rail electric model trains. Drivers for the larger ride on scale are not insulated. Axle boxes can also be created at the time of machining and pressing, or be supplied by the customer. Ride on scale wheel tread follows IBLS Standards unless otherwise specified.

A series of tutorial videos on machining driver centers is also in the works, the first of which may be found on YouTube.

For more information and a quotation, please Contact Us.
Shop Rates
As a small home-based shop with low overhead, we are pleased to be able to offer our services at very competitive rates compared to most industrial job shops:
• Wire EDM machine time: $30/hour
• CNC & Manual Machining: $45/hour
Last update: 20 February 2015