A Brief History of Gauge 3

Gauge 3 in the 1920s-50s



Gauge 3 represents the 4'-8.5" standard gauge trains of the real world in 1:22.6 scale with a model track gauge of 2.5" (63.5mm) between the rails; and from this perspective, as a scale-and-gauge combination, it is spot on. Gauge 3 has a long history, in fact a very long history, as model trains go, dating back to 1891 when it was among four original model track gauges created by pioneering German toy maker Marklin (Gauges 1, 2, 3 and 4). Known more commonly in the United States as simply 1/2" scale or 2.5" gauge, it was very popular among live steam enthusiasts during the 1920s, 30s, and 40s.
During this period, what we may call the "golden age" of Gauge 3, several locomotive kits were offered by Little Engines, H. J. Coventry, and Carl Puriton among others. In England spirit-fired Gauge 3 models were available from by Bassett-Lowke as well as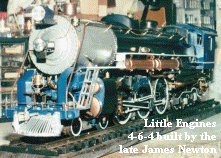 Bing (until that company's demise in the late 20s), and an extensive collection of designs for generally British prototype 1/2" scale locomotives were published in the Model Engineer magazine by Lillian "Curly" Lawrence under the pseudonym LBSC.

This was the age of the amateur machinist, working in his small home workshop with a minimum of tools, a box of sand castings, a tube of blue prints, and a great deal of grit and determination. Many of the models were coarse by today's standards. Some, such as Coventry's B&O P7 Pacific in the hands of a skilled builder, would be outstanding in any era. But there was also a great deal of variety: It is not uncommon to find pictures of small Pacifics, NYC Hudsons, Berkshires, Northerns, or even simple articulateds such as a 2-8-8-4 Yellowstone or even a Big Boy struggling to move a riding car full of 1:1 scale passengers. You see, the typical Gauge 3 live steamer put the majority of his effort into his locomotive, rode side-saddle on an elevated club track behind his miniature creation, and constructed any additional rolling stock as largely an afterthought. But not all Gauge 3 modeling was either coarse, ride-behind, or exclusively live steam.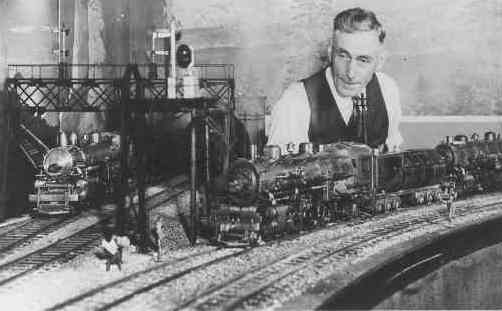 Mr. Shattock's Basement Empire
In most cases Gauge 3 typically was the province of the side-saddle riding live steamer, but not always. One Gauge 3 indoor live steam railroad made the cover of Model Railroader magazine twice during this period, that of Golden Gate Live Steamer's founder Victor Shattock. Shattock's railroad filled the basement of his Oakland, California Victorian home where alcohol fired Southern Pacific 4-6-2s, 2-8-2s, a consolidation and an 0-6-0 switcher pulled a full compliment of 1/2" scale freight cars about an oval track--to the delight of visitors, fellow model-rails, and even SP brass! The oval mainline connected to a small yard complete with an electrically operated 110' turntable, working water tank and a steaming bay. Mr. Shattock's railroad hosted foreign locomotives from time to time and even boasted a connection with another one of the pioneers of model railroading: It's brass rail was custom made by O scale legend Rollin Lobaugh. My thanks to Vic's grandson Ken Shattock who kind enough to provide all the photos. Ken has also produced a 2 hour DVD ($20 ppd) which includes 1930s era movies of the basement railroad in operation!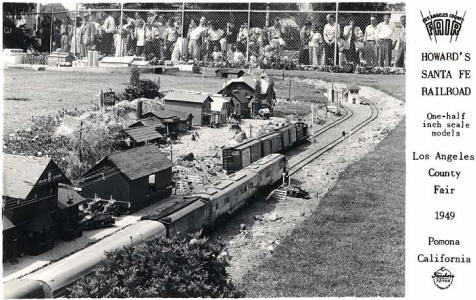 The Fairplex Display
South of Mr. Shattock's home, in Los Angeles County, there was another Gauge 3 empire located at the L. A. County Fairgrounds. Begun in the 1930s, The Fairplex Garden Railway was a ½" scale standard gauge display featuring EMD F units, Santa Fe 4-8-4s (using tender drives built by British manufacturer Hornby), and steel rails embedded in concrete. Originally a privately owned concession, in 1970, the Los Angeles County Fair took ownership of the railroad, and Mr. John Huie, under an agreement with fair management, kept the railroad maintained and running through 1996--after which the entire ½" scale railroad was torn out in 1997 to make way for a Gauge 1, multi-scale "goofy gauge" renovation. The Fairplex Gauge 3 equipment still exists, but is presently in storage. My thanks to Marc Horovitz for the 1949 era postcard photo.
Mr. Brown's Railroad
Another private Gauge 3 empire of roughly the same era as that of Mr. Shattock and the Fairplex Railroad was that of fellow Californian George Brown. Mr. Brown's railroad was originally an outdoor third-rail electric line in Gauge 3 which at some later date was converted to two-rail electric operation. Apparently Mr. Brown was a prolific scratchbuilder and amassed a collection of over four dozen freight cars and several pairs of EMD FT A & B unit diesels. Like so many collections, after his death, Mr. Brown's trains were parted out at auction, some of which were acquired by Marc Horovitz, editor and founder of Garden Railways magazine, and Ron Thomas, a Gauge 3 collector in Ohio, who provided the pics below.
Canadia City--the Legoland That Might Have Been
North of the border, in Niagara Falls, Ontario, a 1950s era miniature toy park dubbed "Canadia City" featured eleven acres of 1/2" to the foot scale model trains, ships, buildings, farms, an oil refinery, an airport, and functional St. Lawrence Seaway locks. Trains at Canadia City were lead by two-rail electric Alco FAs, powered by surplus Singer sewing machine motors driving scaled-up versions of Athearn's old Hi-F rubber band drive--and pulling dozens of vacuum formed plastic freight cars. The Canadia City railroad was also true 1/2" scale, and technically not Gauge 3, using custom-made GarGraves track gauged to 2.350." After its financial collapse, most of the Canadia City equipment disappeared into a black hole of auctions and at least one junk dealer. But the wooden molds used to make the 1/2" scale vacuum formed rolling stock resurfaced in the late 1980s; and for a time, a gentleman in Medina, NY was reproducing these as stand-off scale "props" for restaurant, movie, and other displays.
The Smithsonian ½" Scale Collection
The Railroad Hall of the Smithsonian's Museum of American History on the mall in Washington D.C. houses not only famed Southern Railway Ps-4 Pacific #1401. It is also home to an extensive collection of ½"=1' scale static locomotive and freight car models displayed in glass cases around the walls of the room. While these are neither powered not strictly Gauge 3 (being built to true ½" scale they use, like the Canadia City equipment, a track gauge of 2.350" between the rails), these models are nevertheless exquisite and show what might be accomplished by a scale conscious modeler in Gauge 3. The diversity of the nearly two dozen models is staggering and ranges from early 19th century tea kettles through 1950s era diesels. Big, modern steam is represented by a Big Boy and a Nickel Plate Berkshire, but some of the positive oddities in the collection are a Santa Fe tandem compound 2-10-2 and an Atlantic Coast Line R-1 4-8-4 (probably the least successful of all North American 4-8-4s). Post 1962 prototypes are not represented among the ½" scale models (an EMD GP30 would appear to be the termination point). At present, the collection is on display at the B&O museum in Baltimore, pending renovations in the Washington museum. The bottom row of pictures show the collection in red cases at its new Baltimore home.
Note: Photography of the collection is extremely difficult due to the low light levels and the reflective glass of the display cases. Photo credit: Museum of American History RR Hall (1998)--Dave Queener; B&O Museum (2007)--Unknown
The Gauge 3 Revival (1980s-90s)
Over time, Gauge 3 was eclipsed in the live steam world by the larger riding scales--and it never developed a significant following among indoor, electrically powered modelers in either the US or England; but since the 1980s, it has undergone something of a revival, particularly among small-scale, garden railway live steamers in the UK, and to a lesser extent in Germany among indoor modelers committed to two-rail electric operation, oftentimes in the form of modular layouts. The story goes something like this.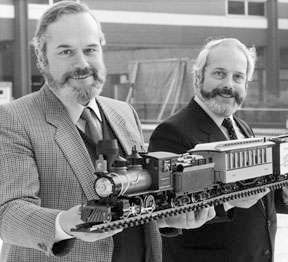 In 1968 two German brothers Eberhard and Wolfgang Richter (pictured at right) launched their Nuremberg based product line of large scale trains known as LGB (the letters "LGB" stand for "Lehmann Gross Bahn" or "Lehmann's Big Train," named after the 123 year old toy making company they had inherited from their father and grandfather, Ernst Paul Lehmann Patentwerk. The Richter brothers were not only dedicated train lovers. They were also savvy businessmen; and whereas other model railroad manufacturers were focusing upon smaller and smaller scales, the Richters went the opposite direction and created what they dubbed "G" or Gross (Big) scale for both indoor and outdoor two rail electric operation. The Richters adopted the old, well established track gauge of 45mm between the rails (Gauge 1, or as it is known on the continent, Spur I) for their "G scale" product line; but instead of modeling 4'-8½" standard gauge trains as had hitherto been the norm for Gauge 1, the Richters chose to distinguish themselves and their new product line from the last of the old-time Gauge 1 manufacturers--Marklin--by modeling European meter gauge railways instead. At 1:22.5 scale rather than the historic 1:32 scale used by Marklin, Bing and the other old-time Gauge 1 manufacturers, LGB's products were physically much larger then their closest competitor and constructed mainly from weather resistant injection molded plastic rather than brass, steel or tinplate. LGB electric trains looked bigger, played harder, and were more kid-friendly than anything else commercially available at the time.
The Richter's creative redefinition of Gauge 1 as a European narrow gauge using 1:22.5 scale was the catalyst for renewing interest in Gauge 3 because it suggested the reintroduction of that same scale's standard gauge counterpart--Gauge 3--or as it has come to be called on the continent, particularly in Germany, Spur II. Gauge 3 could then be conceived of as a two rail electric track gauge--and not the exclusive province of do-it-yourself live steamers. To follow through with this same nomenclature, Gauge 1, because it was being used to represent meter gauge trains in 1:22.5 scale, was correspondingly dubbed Spur IIm, at least among the purists who are also building or operating standard gauge models in 1:22.5 scale. Although LGB's choice of the term "G scale" was a-historical and has contributed to no small amount of confusion among enthusiasts for "large scale trains," the Richter brothers were visionaries and deserve our thanks for putting both Gauge 1 and Gauge 3 back upon the map of contemporary model railroading.

Magnus Goes American
One German company, Magnus, which had been an early supplier for LGB's limited run, collector's edition products, began to test this new market; and as recently as the late 1980s, produced a line of two-rail electric, American prototype freight cars as well as an Alco S1 diesel switcher in several road names. Magnus rolling stock is characterized by robust, .040" sheet steel car bodies which are pressed to shape and spot welded together. Trucks and detail parts are made from spun-cast white metal. Magnus locomotives have unfortunately garnered a well-deserved reputation for looking good but running poorly (see Barry Bog's Locomotive Gallery for an example of repowering an S1 with a much superior LGB drive); and their peculiar white metal alloy suffers from the same sort of lead contamination that causes so many postwar diecast Lionel products to crack apart. Magnus continues to produce short runs of German prototype models in Gauge 3 and at last report had a few examples of the American product line still in stock (see thumbnail of flyer below for availability and pricing in Euros as of March 2008). Elsewhere on this site you can view pictures of a 2007 visit to the Magnus workshop. From time to time, these models will also make a brief appearance on E-bay under other scales.
Saint Charles Station --Custom Builder
At least one custom-builder, Saint Charles Station, also hopped onto the Gauge 3 bandwagon in the 1990s with a handful of custom made American prototype diesels and freight cars. Saint Charles Station was the business name for the late Louis Casanelli. Louis is probably best known for his work in 1:32 scale, Gauge 1 where he produced a product line of over a dozen different standard gauge diesels, each using a NorthWest ShortLine motor brick for its mechanism and then overlaid with Louis' own exquisite handmade brass bodies, built up from photographic etchings, proprietary investment castings and brass architectural shapes. Though I have been told there were other models, to the best of my knowledge, Louis' Gauge 3 production was limited to an SD40T-2, GP9, 80' tank car and a 53' AAR flat. There are rumors that he also constructed at least one EMD switch engine and an F scale version of the SD40T-2.
Pictures are courtesy of Ron Thomas who owns both locomotives as well as the tank car.
Odds & Ends
From time to time, a one-off product has been built by a custom builder or some other small time garage manufacturer. Such was the case with an SW-1 switcher made in the late 90s by a short-lived Denver area company called Miniatures Alive. As far as anyone knows, only the prototype model was built--using brass milled to shape for the trucks & frame and apparently some sort of plastic for the carbody. It is now owned by a gentleman residing in San Antonio, Texas, Frolin Marek, who is adding Gauge 3 (standard gauge in 1:22.6) to his predominantly narrow gauge (Gauge 1 / Gn3) layout. Note the contrast between the narrow gauge LGB White Pass diesel next to the standard gauge SW-1! (Photos provided by Marc Horovitz & Frolin, the latter two taken on Barry Bog's railroad.)

Other Gauge 3 locomotives and freight cars with mysterious origins have also surfaced in the last few years. One such example is that of a live steam North American 4-8-4 with Boxpok drivers acquired by Jim Hadden of Park Cities, Utah. Jim is well-known in his own right for his 2-6-2T conversions of the LGB/Aster Frank S live steamer, scratchbuilt live steam rotary snow plows (also Gauge 1) and other narrow Gauge (Gn3) projects. The Northern Jim acquired came with an operable chassis, boiler, tender body & linen prints. At one time Jim also had the largest collection of Coventry Pacific chassis and castings of anyone since the 1930s. He also has an extensive collection of Gauge 3 "golden era" rolling stock built by a Philadelphia area craftsman.
My Adventure in Gauge 3
With the advent of so many new products to the garden railway scene in the early 1990s, much of which was ostensibly 1:22.5 scale, standard gauge modeling in Gauge 3 initially made sense. Marc Horovitz suggested I track down the remains of the Canadia City display and look for some 2.5" gauge live steam relic languishing in an attic, garage or at an estate sale. In time I did find both: a rather coarse Canadia reproduction as well as a few overpriced basement "relics." But still, with the Magnus models in short supply, and only a handful of Little Engines 4-6-4 castings to maybe one day adapt, there was just nothing commercially available for building two rail electric models in Gauge 3.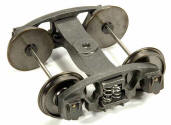 Enter Marc Horvitz again. Marc had acquired some patterns for an Andrews style freight car truck. In corroboration with Chuck Allen of Short Line Car & Foundry in Dallas, Marc offered these trucks to a hitherto untested market. As the owner of Short Line Car & Foundry once told me, "They sold like hotcakes." Now I had something to work with, at least for building freight cars. The cars on the next page were the result, all of which were later sold in order to finance my hobby. Most used Marc's truck, some of which were improved with beefier axels and springs. The bottom of the next page shows the incomplete Gauge 3 projects which got caught in my transition to F scale.
Gauge 3 Today

Since the year 2000, the Gauge 3 renaissance has continued in England where suppliers to the live steam hobby continue to offer small batches of parts and castings and where old LBSC designs and drawings are still being resurrected from obscurity. A new and significant entry into the field has been battery and two-rail electric powered steam-outline locomotives and freight cars offered by Garden Railway Specialists. Garden Railway Specialists are producing an impressive array of British prototype models, including ready-made track. According to their nomenclature, Gauge 3 is "G64" or "G Scale standard gauge." Well, I won't quibble too much here with that bugbear name "G scale." I'm just glad to see the products being made available.
Spur II in Germany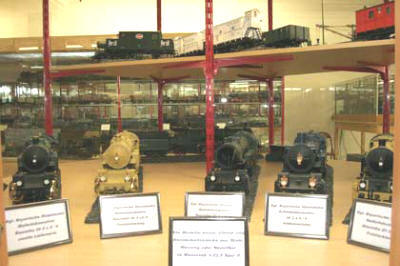 As of this writing (November 2007), I am told by one German authority that there are roughly 15 individuals in his home country dedicated to building and running two rail electric models in Gauge 3, or as it is known in the Fatherland, Spur II. One museum, the Train City Model Railroad & Doll Museum located in Hechingen, has what is no doubt the largest collection of Gauge 3 locomotives and rolling stock anywhere (about 600 handmade models according to the museum director Michael Herberger, along with 15O narrow gauge ones and 2OO examples of Märklin tin-plate made between 1895 and 1938). The Train City display also houses a one-of-a-kind (at least in Germany) indoor Gauge 3 model railroad whose footprint is exceptional, even by large scale standards. As director Herberger puts it, his museum is "headquarters" for much of the Gauge 3 activity in the country.


Some of that activity centers around the construction and operation of dual gauge (Spur II and IIm) modules. This is definitely a first. To the best of my knowledge, no one in either England nor North America has ever built a modular Gauge 3 layout nor even developed interchange standards for constructing one. One of these German modular groups may be found here. Other links will be forthcoming.

The shear size of some of these German models causes one to pause. Consider for instance that workhorse of the German Railways, the BR52 Kriegslok 2-10-0 and its various cousins (pictured above at extreme right). Magnus offers several impressive examples of the DB's ubiquitous classes of 2-10-0. But Magnus also offers a model of one German steamer which in real life was never completed, though has an American connection of sorts: the BR53, also known as the Borsig Mallet.
This asymmetrical 2-6-8-0 was proposed during the height of the Second World War; and according

to some witnesses, portions of the running gear were completed before the project was abandoned due to Allied bombing of the Borsig factory near Berlin (as a side note, Märklin in the early 1970s came out with an HO scale model of this locomotive which, unlike the prototype for the third class of kriegslok, did go into mass production). The curious thing about this engine; however, is its American connection. The BR53 was itself not a wholly new design, but one based, supposedly, upon a Baldwin 2-6-8-0 built in 1909 for the Alabama Great Southern, a Southern Railway predecessor. This locomotive spent much of its operational life running out of Oakdale, Tennessee; was routinely overhauled at the Southern's Coster Shops in my hometown of Knoxville; and was transferred to the Asheville (North Carolina) Division where it worked on Saluda Grade outside of Asheville, before being scrapped in the mid-30s.
Barry Bog's Gauge 3 Empire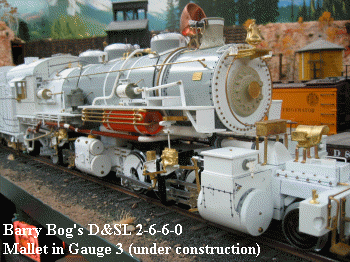 Here in America, there is no equivalent Gauge 3 renaissance, actually more like a malaise, with one notable exception: Barry Bogs and his 1:22.5 scale, dual gauge indoor empire: the Colorado & Western.
I suppose in some measure I bear a little responsibility for getting Barry hooked into Gauge 3. He visited me in the mid-90s when I was working out of my father's outbuilding between semesters at seminary. Shortly after this Barry began work on the second incarnation of his beloved Colorado & Western. After a move to a much larger home from that housing his former attic layout, Barry moved downstairs--slightly--and took over most of the second floor of his new house (a pre-nuptial agreement with his wife, was involved, I understand).
Barry's railroad has a substantial dual gauge mainline with 5' radius curves snaking around and through the second story walls of his home and leaping out into space over the open foyer. The majority of the railroad is narrow gauge in 1:22.5 or "Gn3," but the idea behind the dual gauge portion was to illustrate the profound visual impact of narrow vs. standard gauge. In this he has succeeded admirably.
But not only does Barry operate the largest Gauge 3 model railroad in the United States, he does so using very few commercially available locomotives or rolling stock! A Magnus Alco S1, with substantially rebuilt trucks, and a regauged Bachman 45 tonner are the only commercial locomotives on the standard gauge. Barry's freight cars are also all his own, built up from urethane castings whose patterns he made from styrene, save for about four freight cars which came from my shop. And Barry's two operable steam locomotives--a Denver & Salt Lake 2-6-6-0 and a Little River Lumber Company 2-4-4-2 (the latter which I began) make use of re-gauged LGB motor bricks, but all the rest of the work is Barry's. A Denver & Rio Grande Western L-131 2-8-8-2 simple articulated is in the works now. A gallery of Barry's work may be found beginning here on the CME site and on the Colorado & Western site.
Want To Know More?
For more information about Gauge 3 please visit these sites: The Gauge 3 Society of England, The National 2.5" Gauge Association (also English), or contact me: DavidQueener@juno dot com.
Do you have a Gauge 3 model--or pieces of one--languishing in your garage or attic? Drop me a note and I'll help you to find it a good home (no charge).