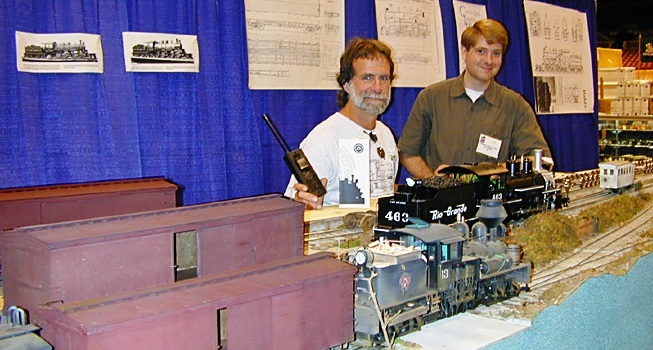 Early F Scale Efforts (1998-2001)
I first met Don Niday is the Fall of 1995 while I was working part-time at Tennessee Model Hobbies, at the time, one of the largest traditional hobby shops in Tennessee. Don was one of our customers, who at that time was still modeling in HO scale, but he was considering moving up to large scale, but not to goofy-gauge outdoor garden railroading. Don wanted to do fine scale modeling in large scale indoors of 3 foot narrow gauge. By 1998, he had made the move to 1:20.3, about the same time as the Bachman two-truck shay became available.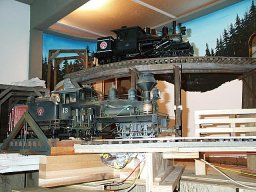 The First Layout
The earliest iteration of Don's layout wa a series of cork screws snaking about an area not much larger than half-bathroom and then penetrating his home office just above deck height. It was tiny, it was tight, but it was all he had room for at the time. When I first saw this hole-in-the-wall railroad in 2001 or so, I thought, "Wow, I bet he can't wait to get out-of-doors." Don had better plans than that, however!
The Three F & Fn3 Modules
Towards the end of my pastoral internship in Kingsport, Tennessee, Don and I got re-acquainted about the same time as made the transition to modeling in 1:20.3 standard gauge. I had had the first batch of 33" and 36" wheelsets made, and Don was corresponding with Jeff Saxton about a standard gauge version of the Fn3 F&CC or "budget" boxcar project. Don and I both agreed it was time to build some modules so as to demonstrate F and Fn3, and to take it on the road. Thus was born the first F standard and dual gauge modules--25 feet and three sections of over-engineered modules that we lugged to the Nation Train Show in St. Louis in 2001 and to several other venues that year.
The "F&CC" Standard Gauge Boxcar (2001)
The F&CC boxcar began a corroborative effort between Fn3 enthusiasts on the Yahoo 1:20.3 Discussion list to create a 30' narrow gauge boxcar prior to there being any other 30' narrow gauge kits in 1:20.3. Behind the scenes, Don discussed with Jeff Saxton about producing a 36' standard gauge car based upon the same basic features of the Florence & Cripple Creek 30' car. At that time Jeff provided the laser cut boxcar parts, Dave the trucks (what few there were--and even these were a collaborative effort with Steve King of 7/8" scale fames providing the white metal archbar sideframes!), and Don providing the inspiration, enthusiasm, marketing and CASH . . . The initial run of kits was about 30 (so if you got one, lucky you! If not, another, improved batch is in the works).
The original F&CC Cars were 30' in narrow gauge (Fn3)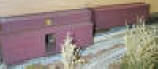 The next batch of cars represented a generic 36' standard gauge car (F)