Dave's Locomotive Galleries

What follows is admittedly a work in progress, but it is my desire to chart my progress as model-maker and custom builder and hopefully to inspire others to similar feats of craftsmanship. With the right tools, time and patience a great model can be built and a novice modeler become well seasoned. Here's a catalogue then of what I am, or have been working on, for myself in F Gauge. It is my hope that one day some of these projets will not only be completed, but also be developed into large scale kits!
I did not wake up one morning in graduate school with an innate ability to build locomotives and freight cars from scratch; rather, this has been a long, and at time arduous process of becoming acquainted first with kitbashing in plastic, then working in metal with hand tools, to using basic manual machine tools, to where I can now use CAD and CNC machine tools. You can read more about my model-making pilgrimage here.

Little River Railroad 4-6-2 #110
It's the smallest standard gauge pacific type with a tender ever built. It ran for much of its revenue career out of Townsend, Tennessee and then later from Knoxville into the Great Smokey Mountains. It was built to haul early 20th century passenger varnish and logs. And it continues to haul the public it its now third career on a Michigan tourist line. The model is also unique and is one-of-a-kind. Read more about it here.


Southern Railway G Class 2-8-0s #107 & #154
The Southern inherited a goodly number of small drivered, Stephenson valve gear equipped consolidations from several of its predecessor lines, in particular the Richmond & Danville & the East Tennessee & Southwest Virginia. These 50" drivered 2-8-0s were built both by Baldwin and by Alco predecessor Schenectady. Two have survived; one is in steam today; the other forlorn; but models of each are under construction in my shop--and may become the basis for the first F scale locomotive kit.

Southern Railway Ps-4 4-6-2
When the Southern cosmetically restored her and packed her off to the Smithsonian's Museum of American History there was no steam excursion program; and there she has sat, in a virtual mausoleum, and will most likely remain for decades to come. The 1401 and her other sister Ps-4 Pacifics were the last passenger steam purchased by the Southern and are the epitome of tasteful, clean, USRA-inspired lines. Nearly as powerful as a mountain type, but with greater speed and British-inspired livery, and a three-chime long bell whistle whose melancholy wail is only matched by that of the stern-wheeler Delta Queen, the Ps-4 has long been on my list of locomotives to be built. You can follow my progress here.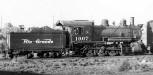 D&RGW C-41 2-8-0
(or bashing a Berlyn K-37 into its standard gauge predecessor)
To most eyes the Denver & Rio Grande Western's C-41 is just a plain-jane, work-a-day 2-8-0, maybe even a bit on the ugly side. They do have one small claim to fame however. The C-41's boiler, domes, tender, tender trucks & even some cabs provided the basis for the D&RGW's much better known narrow gauge K-37 2-8-2. With new narrow gauge running gear provided by Baldwin, they were a quick and dirty solution to the Grande's need for more power on the narrow gauge. I've acquired two Fn3 brass K-37s imported from Korea by Berlyn Locomotive Works in 2002 and will be doing just the opposite of what the D&RGW did: rebuilding these K-37s into their standard gauge predecessors. You can keep track of my progress here. And yes, the finished C-41s will be for sale.