Barry Bogs--The Gauge 3 Freight Cars

| | |
| --- | --- |
| | As one might expect, commercially available Gauge 3 freight cars are very few and far between (save for a handful offered by Magnus in Germany). But this has not daunted the enterprising Mr. Bogs. Shown below is a sampling of his scratchbuilt Gauge 3 freight cars, most constructed from urethane castings based upon his own styrene patterns. Barry also operates four Gauge 3 freight cars which I had a hand in building (see my Gauge 3 Models page). In case you missed it, Barry's scratchbuilt standard gauge locomotives may be seen here. You will find the diesel interlopers here. For pics of his layout and his stable of D&RGW narrow gauge locomotives, please see the Colorado & Western site maintained by Frolin Marek, another 1:22.5 scale indoor modeler with both Gauge 1 and Gauge 3 trackage. Barry may be contacted at blbogs@yahoo.com |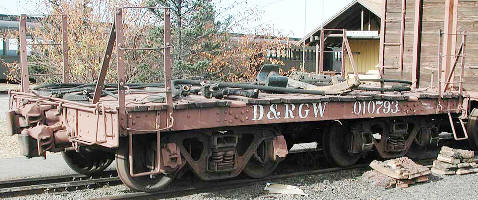 Standard Gauge Idler Cars
(2004)
Whereas other railroads with dual gauge trackage made use of locomotives with either multiple pilot mounted knuckle couplers or a single coupler which could be offset to one side (the East Broad Top and the Tweetsie, respectively, come to mind here), the Denver & Rio Grande Western also constructed a series of standard gauge idler cars for the sole purpose of coupling rolling stock of two different track gauges to one another for operation on dual gauge track, either for switching chores in a dual gauge yard, or as was done between Antonito and Alamosa, for operation in a train of mixed gauge equipment! These peculiar standard gauge cars, which in operation carried no freight, should be distinguished from a variety of narrow gauge "idler" flat car used by the D&RGW during the 1950s era Colorado gas well boom, the latter cars having acted as "spacers" between narrow gauge gondolas which actually bore the weight of oversize lengths of pipe.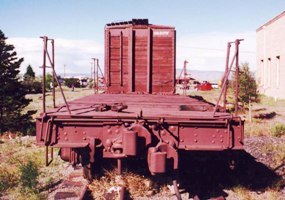 The standard gauge idler cars appear to have been built from the frames of scrapped steam locomotive tenders, each riding on the same variety of early single truss Andrews friction bearing truck, and using a unique multi-position cast coupler pocket on each end, the center position of which aligned a removable short shank Sharon brand knuckle coupler with other standard gauge rolling stock, whereas the left and right pockets offset and lowered a second knuckle for mating with 3' narrow gauge rolling stock. No draft gear was used, and no two D&RGW idler cars are precisely alike. Two remain, one at the Colorado Railroad Museum in Golden, CO; the other at the Cumbres & Toltec Scenic Railroad in Antonito, CO.

Since no detailed prototype drawings of these cars, save for a very basic diagram, have ever been found or published, Barry's idler car follows an O scale brass model put out by Precision Scale Company some years ago, which itself appears to be patterned after the Antonito car. Barry built his Gauge 3 version from a combination of Plastruct channels, basswood, urethane copies of Magnus Bettendorf trucks, and LGB wheels mounted onto new Gauge 3 axles. Kadee couplers in all three relevant positions were attached to each end sill so that the cars can be used without turning on any possible configuration of dual gauge track.
Hanrahan Reefer


(2004)
Twenty wooden reefers were built by the Pullman Company for the Colorado Midland in 1897 using the Hanrahan refrigeration system. These cars were well insulated for their time, having a sheet metal interior in order to cut down on air leaks, and were used for the shipment of apples and peaches from Grand Junction to Colorado Springs. Dairy products were also delivered to line stations and to mercantile stores in the mining camps. Upon the abandonment of the Colorado Midland during WWI, the Midland Terminal purchased all twenty cars (the Midland Terminal delivered cargo to various mines and towns along the Cripple Creek gold camp route). Unique to these reefers was the graphic of an Ute Indian warrior, with the Pike's Peak Route logo emblazoned upon his shield, which was painted onto a piece of tin attached to the side of the car.
Barry's car was originally begun by the late Jim Ferry in the mid 1990's. Jim based his model upon drawings published in the January 1965 Model Railroader magazine and built the car body using both plain styrene sheet and Evergreen scribed siding. The body was essentially complete when Barry acquired it around the year 2000. He then completed the model using his own archbar trucks, LGB wheels regauged onto my own Gauge 3 axles, additional detail parts (such as door latches and steps), and then added Kadee couplers. James Engle, another member of the Houston Modeler's Collective, produced the masterful decals. The reefer now happily resides on the Colorado & Western and is, with respect to the world of large scale, truly one-of-a-kind.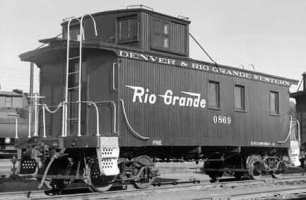 D&RGW Cabeese
(2005 & 2008)
Every standard gauge train from the steam era needs a caboose, and Barry has built three of them, the first two based upon D&RGW wooden cabs with steel underframes, the third an all steel version. Each of the wooden cabs is handmade from styrene and scribed to mimic the tongue-and-groove boards of the prototype. Cast urethane trucks are reinforced with music wire and equipped with LGB wheels mated to new 6mm Gauge 3 axles. A smattering of detail parts completed the models. Barry built the wooden cars circa 2005.
Barry's steel caboose is made using a slightly different technique since essentially all its components, save for the roof, are urethane castings made from styrene patterns. The latest version of Barry's steel caboose also made a trip to the 2009 meeting of the Lone Star Regional Division of the NMRA--and by all accounts was well received: Another Blue Ribbon in Barry's cap!

USRA Rebuilt Gondolas
(2005)
One of Barry's other 2005 projects was these three 42' gondolas based upon a New York Central all steel rebuild of a USRA composite original. The goal here was to create a very generic, vanilla flavored steel gon from the steam era. Plans for the NYC gon were found in a copy of Mainline Modeler magazine. Barry first constructed styrene patterns, complete with rivet detail using Peco track nails to simulate rivet heads. These patterns were then copied in a rubber mold and urethane copies were produced. Barry fabricated a masterful styrene pattern for the AB brake system triple valve and Miner brake wheel. These patterns were copied in lost wax brass. Once again, urethane copies of Magnus Bettendorf trucks were mated to the ubiquitous LGB wheels and 6mm stainless Gauge 3 axles which I provided.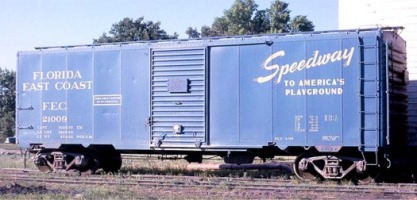 1937 AAR Boxcar
(2005)
The ubiquitous steam era boxcar: the American Association of Railroads 1937 40' boxcar. Railway historian, modeler and author Ted Culotta writes:
The 1937 AAR box car and its subsequent iterations represent the first voluntary and mass adoption of a box car design by the railroads. While the USRA designs were certainly ubiquitous in their distribution, they were also mandatory designs, as the government forced the railroads to accept these designs. After government control was lifted, the railroads returned to the construction of designs that suited their own individual tastes. While the ARA designs of the 1920's and 1932 resulted in some standardization, they were also plagued by regionalization (the X-29/1923 ARA box cars gained widespread adoption in the industrial Northeast) or significant modification (the 1932 ARA box car featured seemingly limitless combinations of roofs, ends, doors and underframes on a basic set of car sides. The 1937 design experienced widespread adoption in all areas of the country and the number of variations to the design was quite limited... The number of cars constructed to the design seems to indicate that the railroads were quite accepting of the experiment. The standardization that the 1937 AAR design introduced and its acceptance by the railroads ushered in the era of standardized equipment.
Barry's goal in choosing the 1937 AAR design was very much like that of the prototype railroads: to equip his line with a generic, versatile--and hence economic--series of boxcars, and as a modeler, to apply several road names appropriately to the same design as well. Once again Barry's usual techniques of styrene casting patterns, urethane production pieces, Peco track nails to simulate rivets, cast urethane trucks, and custom investment cast brass detail parts were followed. The drawings for this car came from two sources: Prototype blueprints from the National Museum of Transport's library near St. Louis, Missouri and Bob Hundman's fine work in Mainline Modeler magazine (Note: the first prototype drawing is a large 13 meg file).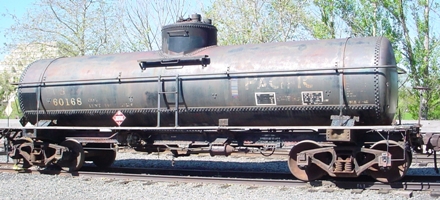 32' Tank Car
(2008)
One of Barry's 2008 projects was the construction of three 32' long standard gauge tank cars. These cars are unique in that Barry used spare 1:20.3 scale brass tanks imported by Three Foot Models which he found on E-bay. The Three Foot models tanks were actually made to represent the ex-standard gauge cars which the D&RGW ran on the narrow gauge with both Gramps and Conoco markings. In 1:22.5 scale, the F scale narrow gauge tanks scale out fairly well for a standard gauge tank car. Barry made styrene frames for these and urethane copies of Magnus Bettendorf trucks. At least one of the cars, which he built for a friend, uses Magnus brass knuckle couplers, each coupler having a "skate" at its base for uncoupling on a ramp.